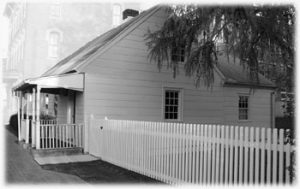 In 2002 the Society took a bold and significant step: we saw the realization of a 17-year dream, by purchasing a site for our museum. This log structure may be the oldest structure in the village, likely dating from 1760.
This log house was erected by or for Jacob Downer to attract residents for the village of Maytown, on land he located on the "Great Road West" when this was the path to America's Western frontier.
The original building was constructed in the classic German style with three rooms on the first floor, a kitchen with fireplace, a meeting room and a bedroom. Below was a dirt walled basement and above an open attic. Another room was soon added at the eastern wall to support a business.