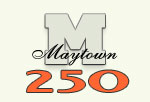 Society Info
---

MHS Museum
---

MHS Events
---

---
www.maytownhistory.org
---
The Society hosts a wide variety of events and fund raisers throughout the year, including the annual "Mayfest" celebrations, "Garden Ganza" and new in 2006 "A Log House Tour", as well as monthly programs to raise the historical consciousness of our local population.
The monthly meetings are held on the second Thursday of most months in the Parlor of St John's Lutheran Church, North Queen Street in Maytown. Over the summer months some meetings are held at our Museum, which is located at 4 West High Street in Maytown.
Business meetings start at 7:00 pm followed by the monthly programs, which start around 7:45 pm and last about an hour. All meetings/programs are open to Society members and the general public.












PO Box 293
Maytown, PA
17550-0293
717-426-1526


Links